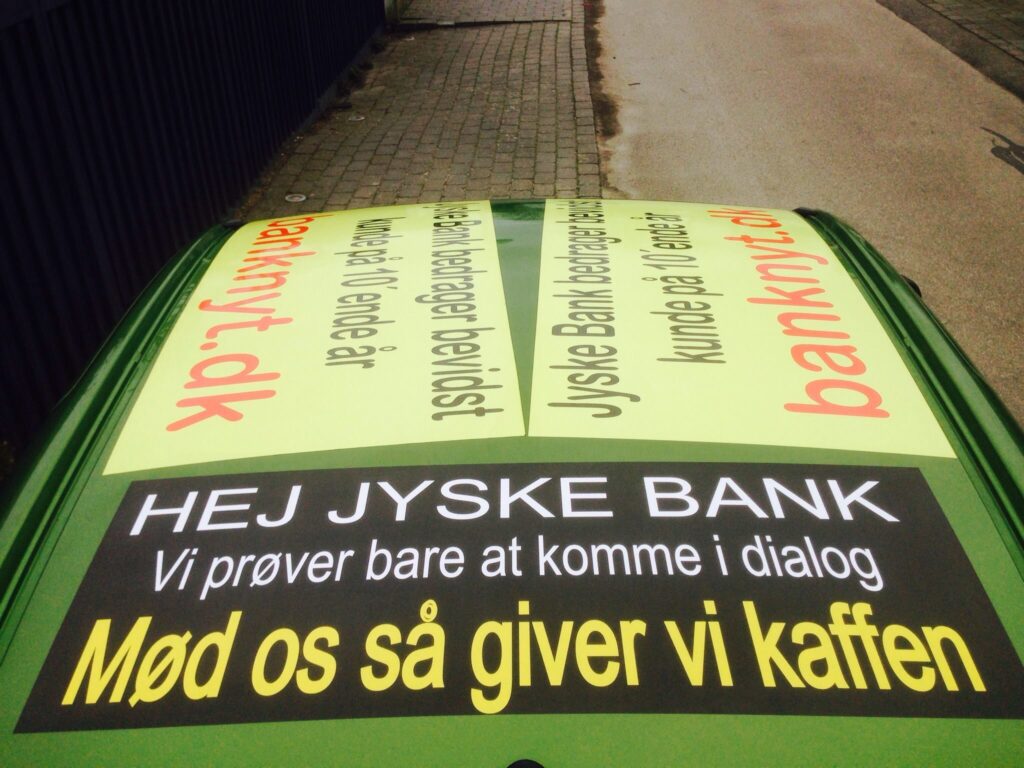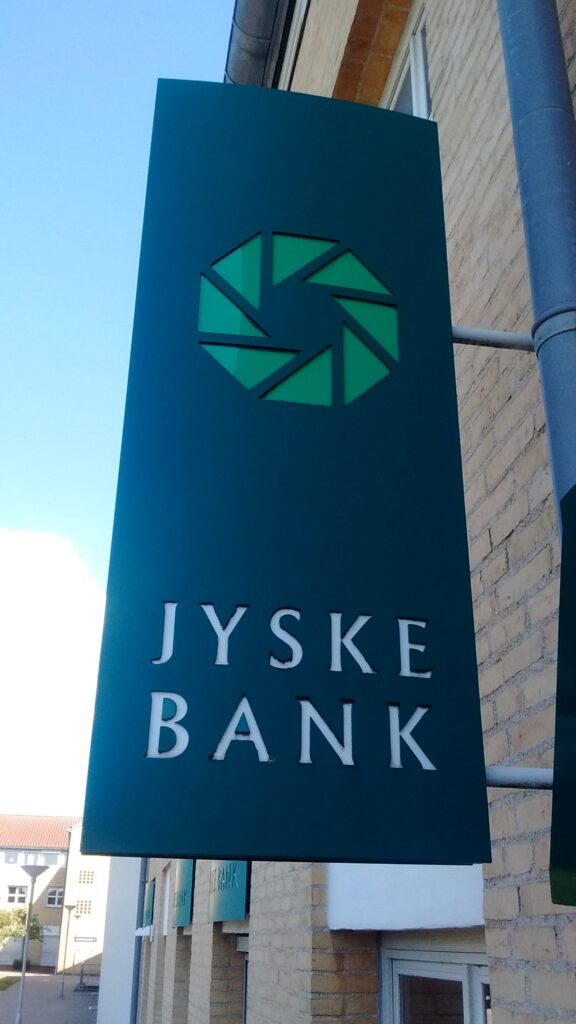 Since Jyske bank has bought and paid for our former lawyer to work for Jyske bank.

Have we not really have a lawyer until November 2019.

And when Jyske bank writes October 30, and asking the court, to disregard the client's presented fraud and false allegations October 28 against Jyske Bank, to demand attorney's injunction.

Surely so that Jyske Bank could again buy the new lawyer, not to submit fraud allegations, that is the very foundation of Jyske bank.

Do you have another explanation ?.


But this time the client in Jyske Bank has found a lawyer who is not corrupt and who has promised to bring the client's case against Jyske bank and that according to the client's own allegations from 28-10-2019.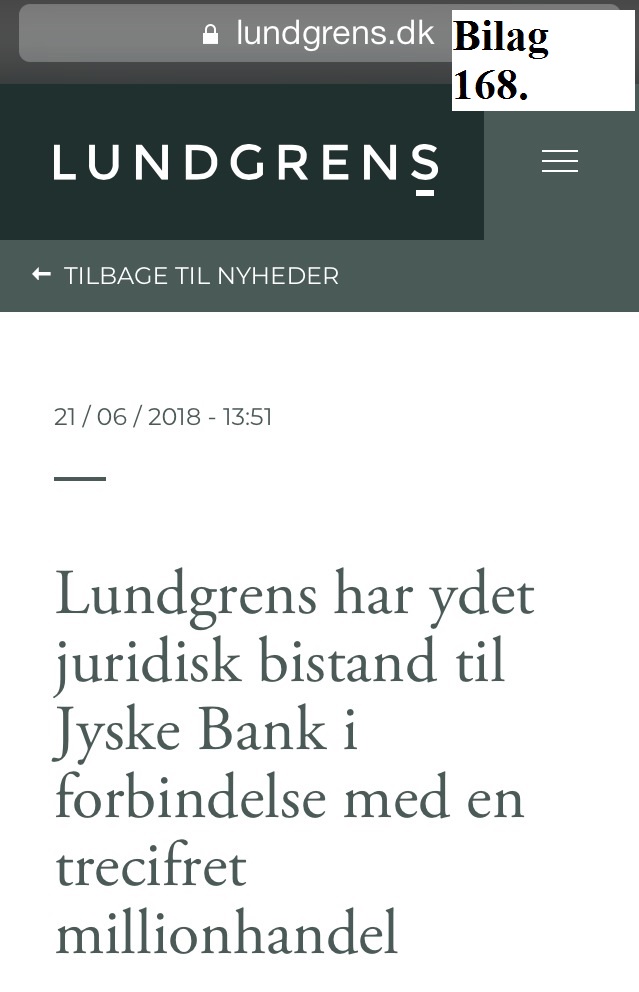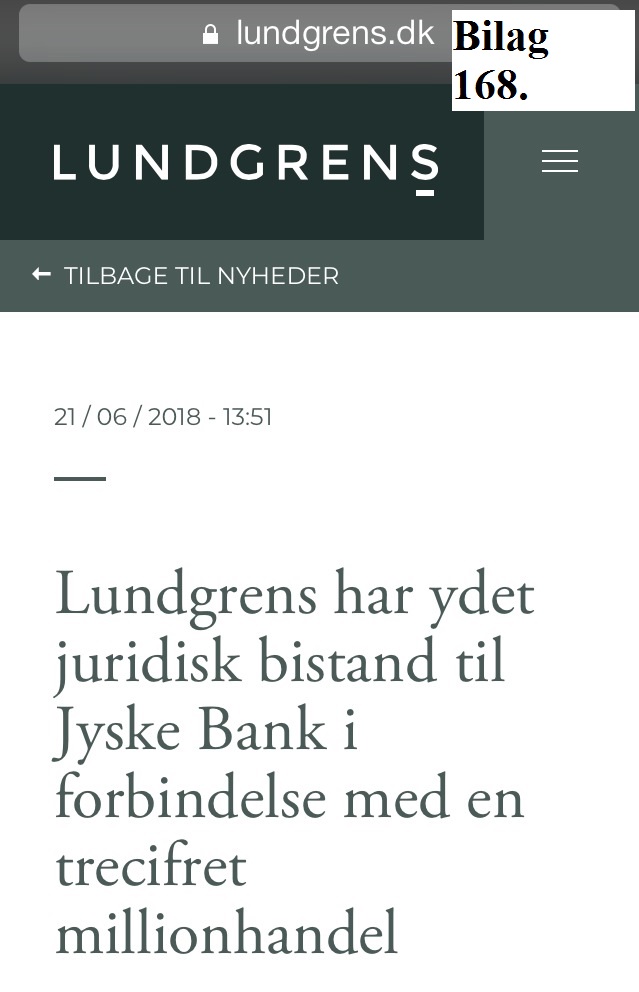 What is most illegal for banks.

FIND JYSKE BANK

Money laundering.
Fraud.
Document forgery.
Exploitation.
Maybe bribery.

Some of this and more, are Danish customers, in the Danish bank like Jyske bank exposed to.

If you do not believe it, ask Jyske Bank +4589898989 they are allowed to answer you.

The case is in the district court under case no. BS-402/2015-VIB

For the first time since we asked February 2016, the earlier lawyer to present our allegations against Jyske Bank, here we ourselves had to submit them October 28, 2019.

You are also welcome to ask plaintiff +4522227713
And if you find anything, that may be wrong.

Tell us and we
correct it immediately.

🙂

We have found a new lawyer, who is not corrupt, and would like to present the client's claims against Jyske bank.


🙂

Letters dealing with the case against Jyske Bank for fraud.

Covers allegations and evidence against Jyske Bank, in case BS-402/2015-VIB. as Jyske Bank in several ways, has tried to prevent was presented in court.


–
When our claims document is made, after our closing petition of 28-10-2019, will we share letters from these links.

LETTER LUNDGRENS.
Do you dare to trust Lundgrens lawyers, if the lawyers are corrupt ?. And cover the Jyske Banking fraud. ?.

LETTER RØDSTENEN.

LETTER LUND ELMER SANDAGER.
Do you dare to trust Lund Elmer Sandager lawyer, if the lawyers are lying in legal relationships ?. And cover the Jyske Banking fraud. ?.

LETTER JYSKE BANK.
Management and CEO Anders Dam.
Do you dare to trust Jyske bank if, the
Jyske Bank's Board of Directors is lying in legal matters, to disappoint in legal matters. ?.

LETTERS TO THE COURT IN VIBORG.
Including appendix 28-101. Which we ourselves have tried to present on 28-12-2018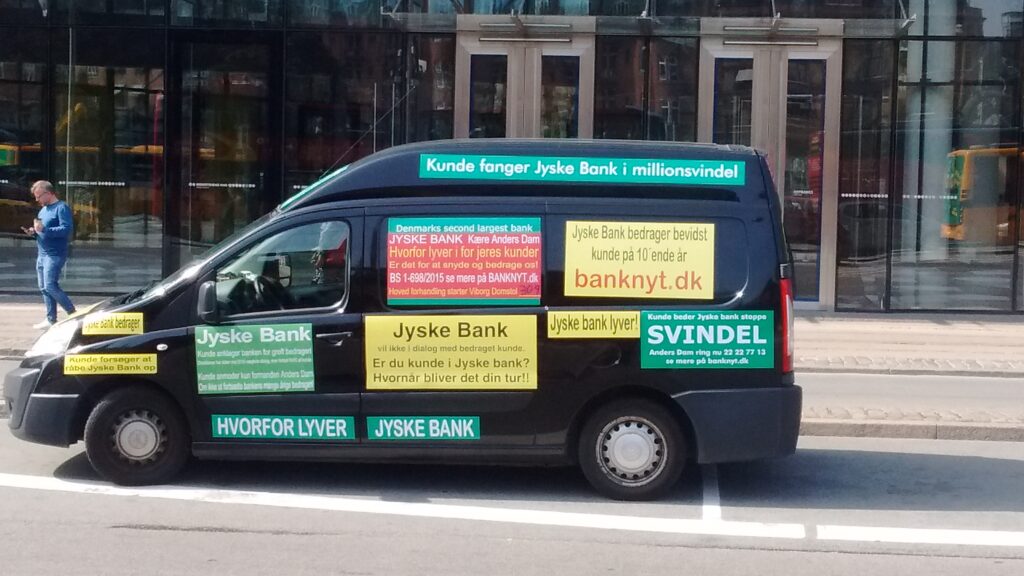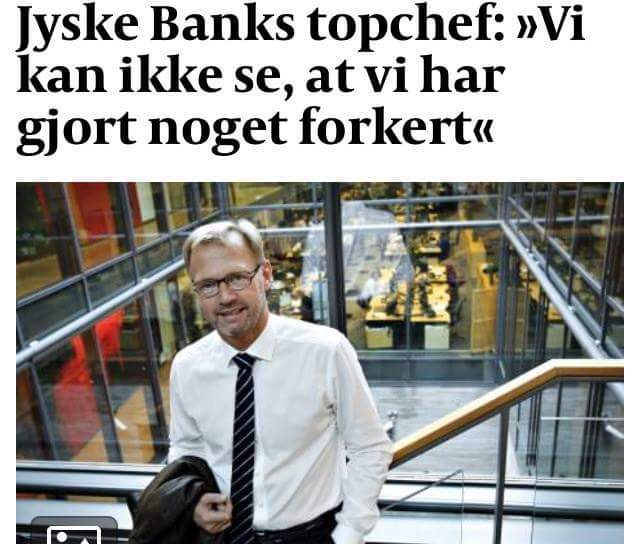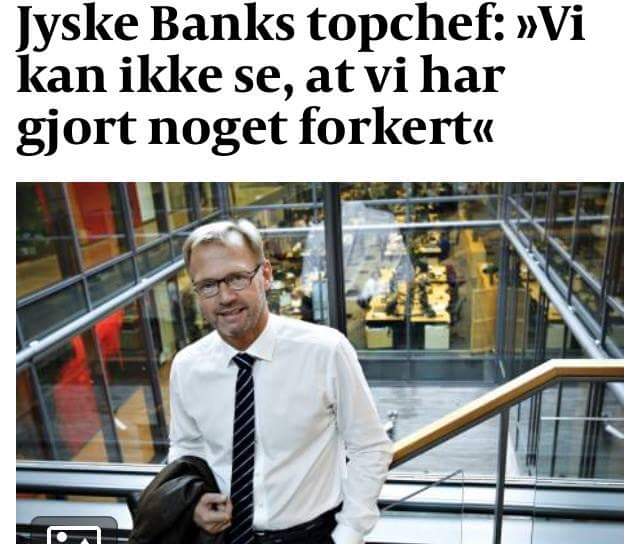 🙂

The journal Danish banks such as Jyske Bank have major problems in complying, with the law.

Can Danish lawyers be bribed.

Click and see more at Banknyt.dk

🙂

Read our claims BS-402/2015-VIB.

Which after 2 lawyers Redstone Rødstenen in AArhus and Lundgrens in Copenhagen.

Would not present the chase to court, but as the Customer himself after 43 months here 28-10-2019 presents for the court.

🙂

You are probably wondering, why this page about Danish banks is made ?.

🙂

THE ANSWER IS.

🙂

This is a call to the big Danish banks, to not lying at their customers.

With a view to getting an unreported income to the bank.

🙂

A loss from the customer, who becomes a income to shareholders, who actually own the banks.

🙂

An income that becomes a crucial asset loss for the customer.

In Danish it is fraud.

🙂

We know that the large Danish pension funds, own large shares of the Danish banks, such as ATP.

And these act just like Blakstone.
Which the danish government has so much against.

🙂

But the problem with the pension funds, is they don't care how their wealth increases.

🙂

We already know that banks such as Jyske Bank, which in their cases succeed in calling cases for bad advice.

And that the bank then chases limitation which is only 3 years.

🙂

This is a socially big Danish problem.

As the Danish banks do everything they can, to ensure that their clients do not discover that they are subject to deliberate bad advice.

🙂

At least not until after 3 years have passed, and here is where the banks chase the obsolescence.

🙂

As banks like here, in the case mentioned Jyske bank, seemed to speculate on getting all their obsolete.

🙂

IS THAT IS A PROBLEM

🙂

In order to secure Danish banking customers.

The parliament is forced to change the statute of limitations to the banks.

The statute of limitations on the Danish banks, must be up to at least 5 years, if not 10 years.

🙂

If this does not happen, the banks like here Jyske bank Will not change their business methods.

As our case BS 402/2015-VIB is a good example of.

🙂

The law of good custom must also be changed.

So that it becomes a law that is punishable by transgression.

🙂

If you look at the Danish bank cases, and judgments in through, from Danish banks like Jyske Bank

🙂

Will you be able to read that Jyske bank does a lot of telling in court, they do not have to comply with good practice.

As it does not have any consequence to violate good practice rules for banks.

🙂

If the statute of limitations was,
at least 5 to 10 years.
And good customary law made.

🙂

Wild cases like the hedge case, swap cases and many more cases, for many hundreds of millions hardly to be found.

🙂

But now the law, is as it is.

If the state parliament, wants to help the banks, then the law should not be changed with lying to their customers either.

🙂

And then the banks won't change.

🙂

In our case.

We have found that banks, like Jyske Bank do not care about the law.

And probably have violated most of the law before crimes.

Remember, since 2016 we have been running around with advertisements,
about the case.

And wrote about it in the diary banknyt.dk here.

Jyske Bank has been fully involved in Banknyt
Since October 13, 2016.

And Lundgrens has been doing it.
Since April 16, 2018.

But they will not realize there is something wrong with their businesses.

🙂

But that we as a client also experience, Jyske Bank bribing our lawyers, not to present the client's case, to the court.

Is an extension, and this was not expected.

🙂

The case that the customer himself has to present the court.

Is that the customer accuses, Jyske bank of fraud.
And now also bribery, in the form of return commission.

🙂

You can read this in the allegation document from 28-10-2019.


We share our closing response from 28-10-2019 here.

Try and compare our response, with the Lundgrens delivered 18-12-2018

Look at the bottom of the page, banknyt.dk

And ask Lundgrens and Jyske bank.
If they have been some payment, for not submitting the client's claims, to the court

🙂

See Banknyt.dk  bank news

🙂

See Nyforsikring.dk  new insurance

🙂

See Nyadvokat.dk  new lawyer

🙂

See Rignu.dk  rich now

🙂

See Hurtigrig.dk  fast rich

🙂

And no this is not fun.

We try to get the management of Jyske Bank to apologize and apologize.

But not least to admit, it is just not okay, to cheat and deceive its customers.

And that it happens with the management behind, as in association.

The management has decided to continue the Jyske bank's fraud.

What can we do when the Danish police will not investigate Jyske Bank for fraud against our customers.

Police chase 0100-83966-00085

🙂

Ask yourself about, is Jyske Bank an honest, fair, and reputable, Danish bank ?.

Or is there something about the talk of Danish Banks being dishonest ?.

And uses Danish banks to bribe, and lie in legal matters, to disappoint in legal matters.

We only ask because it seems to be a FACT.

–
Or do you have an explanation.

Why the client here, must both fight against their own bank Jyske Bank.

And also have to fight with their own lawyer.

Who directly work against their own client.
In a case that is about being honest, and honorable.

🙂

And what about the great Danish law firms, like Lundgrens.

Have these lawyers acted as a reputable law firm ?.

🙂

We will continuously share all attachments on, among other things, diary since bank new

"Banknyt.dk"

🙂

And now remember this diary, is due to the overall board of Jyske Bank.

🙂

It is the full responsibility of the Board of Directors that we are exposed to fraud, and who do not want dialogue, and that is why we are exposed to fraud today.

🙂

We do not want the case, but we are up against Denmark's second largest bank, which has a different view of good banking.

🙂

While we are still trying to meet the bank Group President CEO Anders Christian Dam, for an explanation

🙂

Lundgren's lawyers, Dan Terkildsen, have said on their office, 13-08-2019 That Jyske Bank's Board of Directors has no responsibility.

🙂

We believe that Lundgrens, has only manipulated with us, not to present our claims, so that with the Jyske Bank Board of Directors having no responsibility for Jyske Bank's fraud, we do not agree

🙂

WE WANT DIALOGUE

🙂

And, therefore, again asks the chief executive CEO Anders Dam to re-examine the matter

🙂

Isn't something wrong

🙂

If Jyske Bank did not make money in the pants, then of course we have to pay Jyske bank their money.

🙂

But that we have to be exposed to this is outright evil.

🙂

Dear all of you at Jyske bank.
Lund Elmer Sandager.

Now read the letters we have sent since the beginning of the case.

And see if there is something completely wrong.

CALL US +4522227713

🙂

This is not written in a bad sense.

But only like a breath of fresh air, to research your business for the way you make money.

🙂

From here the very best regards, to the Group Board of Jyske Bank Denmark.

Storbjerg Erhverv
Soevej 5.
3100 Hornbaek

Danmark
+4522227713

🙂

Hope this soon becomes a forgotten cause and we together can laugh at it. so look forward.


Partner & Invester søges til udvikling og salg
af Landsdækkende håndværks Franchise koncept.
Partner & Invester søges til udvikling og salg af Landsdækkende Franchise koncept.
Inden for el og vvs og alt håndværk.
Du har kendskab til virksomheds koncept udvikling, gerne inden franchise koncepter.
Og meget gerne branche kendskab, inden for el og vvs, eller andet håndværk.
Konceptet kan og skal udvides, inden for alle håndværks brancher,
Håndværks services / konceptet er under udvikling, men vi starter NU.
Derfor søger vi en kapital stærk partner, der vil være med.
Vi skal være fuldt lands dækkende inden for 1 til 2 år, i alle de største Danske byer.
Herefter arbejder vi efter at kunne dække alle yderområder inden for 2 til 4 år.
Vi starter toget nu, og ønsker at have stærk kapital partner med,
således kan vi fyrer mere kul på og komme hurtig op i fart.
vore målsætning er at blive den mest kendte og mest brugte
inden for alt akut håndværker vagt services.
Vi er under udvikling, derfor søger vi dig som partner nu.
Har dette fanget din interesse, og ønsker du at være med så ring.
kontakt venligst
Advokat Peter Sørensen på 22 22 77 12 eller
Carsten Storbjerg
på telefon +45 40 33 34 00 gerne send en sms.
kontakt information finder du her.
www.elvagten.dk
Venligst advokatnyt.dk
---
Partner & Invester søges til udvikling og salg af Landsdækkende Franchise koncept.
Juridisk rådgivning, konflikt løsning og mægling.
Velkommen Til din nye rådgiver.
Vi kan give dig den helt rigtige rådgivning i alle juridiske spørsmål, konfliktløsning og mægling.
Rådgivning, vedrørende køb, salg og leje af alle former for fast ejendom.
Vi kan gennemgå din lejekontrakt, forsikringer og andre aftaler.
Vi kan oplyse dig om mulighederne for at få gældssanering eller andre økonomiske muligheder.
ring til Peter Sørensen +45 22 22 77 12